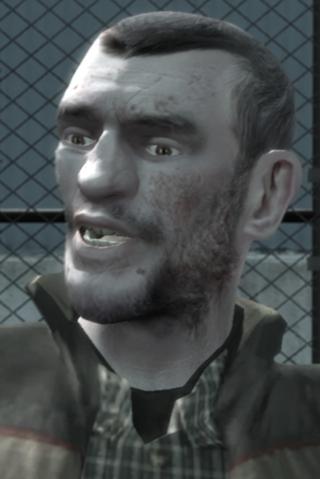 Darko Brevic (1975-Present) is the main antagonist to Niko Bellic in Grand Theft Auto VI.
Early Life
Edit
Darko was a fellow soldier alongside Niko Bellic and Florian Cravic during the Yugoslav wars, and eventually sold out his squad to enemy forces for $1,000 to help pay for his heroin addiction.

Niko would spend the next decade hunting down Florian and Darko to discover who betrayed the squad, and to exact revenge. After the betrayal, Darko fled to Bucharest, Romania.

Niko moves to Liberty City to find Florian, who in the intervening years changed his name to Bernie Crane. Niko discovers, however, that Florian is innocent, and begins to look for Darko.
During the Events of Grand Theft Auto VI
Edit
One of Niko's contacts at the United Liberty Paper organization eventually arranges Darko's kidnapping, and leaves him on the tarmac of Francis International Airport, at Niko's mercy; Niko arrives at the airport with Roman, and interrogates Darko. Darko reminds Niko that their squad were no angels themselves, stating that Goran (another member of their squad) was responsible for the deaths of some of Darko's own friends and neighbours, and tells Niko the reason he betrayed the group. Niko is horrified that he and his friends were sold out over such a paltry sum of money; in response, Darko asks how much Niko has charged for all the murders he has committed. Darko also calls him a hypocrite; he falls to his knees and says that Niko would be doing him a favor by killing him. He breaks down in tears, and Roman attempts to coax Niko away, observing that Darko "doesn't look like he enjoys life too much."
Darko is allowed to live, Niko will feel a little better, knowing that the greater punishment is leaving Darko alive to suffer from his drug addiction. As Niko walks away, Darko runs away screaming, never to be seen again in the game. It is then unknown what happens to him after this. Roman, Florian and the United Liberty Paper Contact congratulate Niko on finally letting go of his desire for revenge.
During the Events of Grand Theft Auto VI
Edit
In Late 2013 - 2014, Darko who has given up his heroin addiction united remnants of the Rascalov Bravta and the Pegorino Crime family and has become their leader. Darko has sought revenge on Niko and tried to have him killed by sending Russian Hitman after him, but was foiled by Niko Bellic with the help of FIB Agents Alberta Da Silva and Ashley Madison.
He can be killed by protagonists Niko Bellic or Trevor Phillips.