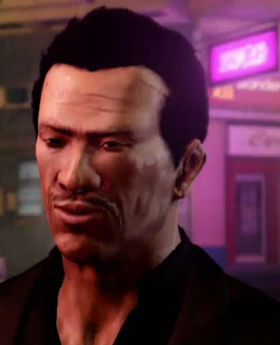 Liu Cheng (1980-Present) is the main antagonist to Franklin Clinton in Grand Theft Auto VI
Early Life
Edit
Liu started out in the Sun On Yee his father's organisation triad as an enforcer. Liu took control of a small drug operation and began targeting upper class women and teenage girls, making them addicted to heroin, so that he could be able to exploit and force them into prostitution to support their addictions. This caught the attention of filmmakers and distributors, allowing Lee to use his girls as porn stars. With the profits, Liu laundered the money into larger drug operations and would use the profits to invest further in the entertainment and pornography industry. In just three years, Lee was in control of vast drugs, prostitution and pornography rackets.
As a result of his profits and rackets, Liu became the right hand man of his father Wei Cheng and was the highest financed gangster in the Sun On Yee and one of the most feared men in Hong Kong. Liu became a silent partner and investor in Sonny Wo's Three Circles Entertainment media business, spanning drugs and prostitution throughout Hong Kong's entertainment industry. With Sonny as Liu's chief economic backer, Lee was able to generate high revenue and immense cash reserves. Liu was also known for his use of excessive violence and brutality.
During the Events of Grand Theft Auto VI
Edit
After his father's death at the hands of CGF Gangster Franklin Clinton, Liu took over his father's organisation in Hong Kong and Los Santos and has desired revenge against Franklin.